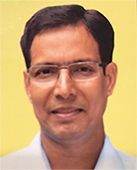 Director (Projects)
Maharashtra State Electricity Distribution Company Ltd.
                 Shri. Bhalchandra Khandait has been selected as a Director (Project), MSEDCL. Before joining as Director (Projects) he has worked as Regional Director, Nagpur. He has successfully implemented Saubhagya Yojana in remote areas of Gadchiroli District.
Shri. Bhalchandra Khandait is resident of Sangadi village, Tal Sakoli of Bhandara district. He had joined as Junior Engineer in August-1989. He started his career from Navargaon Section of Chandrapur zone. After that got promoted to Executive Engineer and worked at Katol and Congress Nagar Division and during this period Congress Nagar division ranked at top three divisions in the state also Congress Nagar division has done remarkable work on Infra Structure built up.
Shri. Bhalchandra Khandait was promoted to Superintending Engineer in May-2011 and posted in Head Office, Prakashgad. He has also worked as Superintending Engineer, Ganeshkhind Circle Office in Pune. Before working at HO he looked after the Charge of Chief Engineer Distribution and Commercial successfully. In May-2017 he was selected as a Regional Director, Nagpur.
He has visited remote areas of Etapalli and Bhamaragad talukas of Gadchiroli district during his tenure as Regional Director, Nagpur. He played a vital role in the completion of energisation work before the estimated time. Further, HVDS work in the Nagpur region has been started during his tenure.