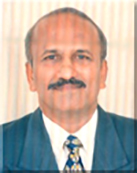 Dr. Ashok Harane joined the MSEDCL Board on 2nd January 2009 as an Independent Director. He has been with IL&FS Mumbai – the premier Infrastructure financial Institution for the last 12 years. As a Chief Executive (Power business).
He is heading various initiatives of IL&FS in Generation, Distribution and Renewable Energy projects with an aggregate capacity of 8400 MW in different states along with state Governments and CPSUs. Prior to joining IL&FS, he has served MSEB for 28 years and worked on a number of positions at MSEB's thermal power stations.
Ashok Harane holds B.E. (Mech), B.E (Elec) and Ph.D (thermal engg) degrees.