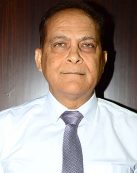 Director (HR)
Maharashtra State Electricity Distribution Company Ltd.
Mr Pawan Kumar Ganjoo has been appointed as Director (HR) through direct recruitment & he has recently taken over the charge of the same. The post of Director (HR) is  Newly created & Brigadier Mr. Pavan Kumar Ganjoo is the first person appointed to this post. Highly qualified Brigadier Mr. Pavan Kumar Ganjoo has vast experience in HR field.
He belongs to Jammu & Kashmir state & has completed 38 years of service in the Indian Army on various ranks. He served the nation at various places. Brigadier Mr Pavan Kumar Ganjoo is Science faculty graduate & also acquired Postgraduate degrees in Management, Journalism, Labor Management, Industrial relation, Marketing, food analysis etc. from various universities. Further, he is trained with Important fields like security, disaster Management, etc. and worked impressively in Indian Army Human Resources Administration.